A Creator's Journey Through Seattle's International District
Discover Seattle's International District with Vivian Mak
Artist and Seattleite Vivian Mak recently shared some of her favorite spots in the ID along with her community mural in the entryway of Uwajimaya Village. The mural was created in partnership with Urban Artworks, a non-profit engaging youth and communities in the creation of public art that inspires connections and honors their voices.
"I wanted this mural to embody a sense of togetherness. I hope that those who pass by feel something from it. They might not know the symbolism behind it but I believe they will feel the energy from it," Vivian says about the mural, pictured below.
DISCOVER THE LARGEST JAPANESE SUPERMARKET IN THE PACIFIC NORTHWEST
The Uwajimaya Village is an apartment community and mixed-used building connected to ID staple, the Uwajimaya supermarket. Uwajimaya was founded by Japanese entrepreneur Fujimatsu Moriguchi in 1928 as a small business in Tacoma, WA. Following World War II, Mr. Moriguchi anchored the family business in Seattle's International District. After growing to four locations, Uwajimaya is now the largest Japanese supermarket in the Pacific Northwest and a great stop for food, books, gifts, and weekly grocery runs.
This month and every month, we encourage you to seek out and support your local AAPI-owned businesses and share your discoveries with friends and family.
VIVIAN'S OTHER CAN'T MISS SPOTS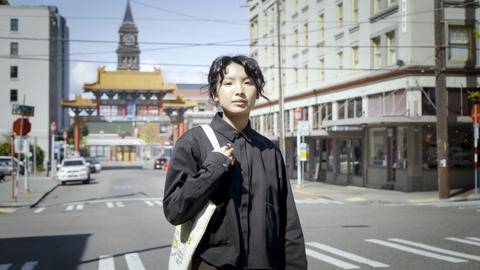 Vivian Mak is an Asian American Artist and Designer living in Seattle since 2017. Mak works with organizations such as the Seattle Asian Art Museum, Urban Artworks, and currently the Jacob Lawrence Gallery. Mak finds inspiration through interactions with the people and objects in her day to day life.
---