Artist Glynn Rosenberg Brings New Quencher To Life
Glynn Rosenberg is a full-time artist based in Seattle, known for their impactful abstract florals and use of contrasting colors. Their work caught the eye of the team at Stanley, who was excited to partner with Glynn on an original print for the 40 oz Adventure Quencher Travel Tumbler. The limited-edition Cream Floral Quencher showcases rhododendrons and poppies—two flowers you'll see blooming in early summer throughout Seattle, where Stanley is headquartered.
As part of this special launch, we talked with Glynn about the Quencher project, what inspires them, and what they want to share through their art.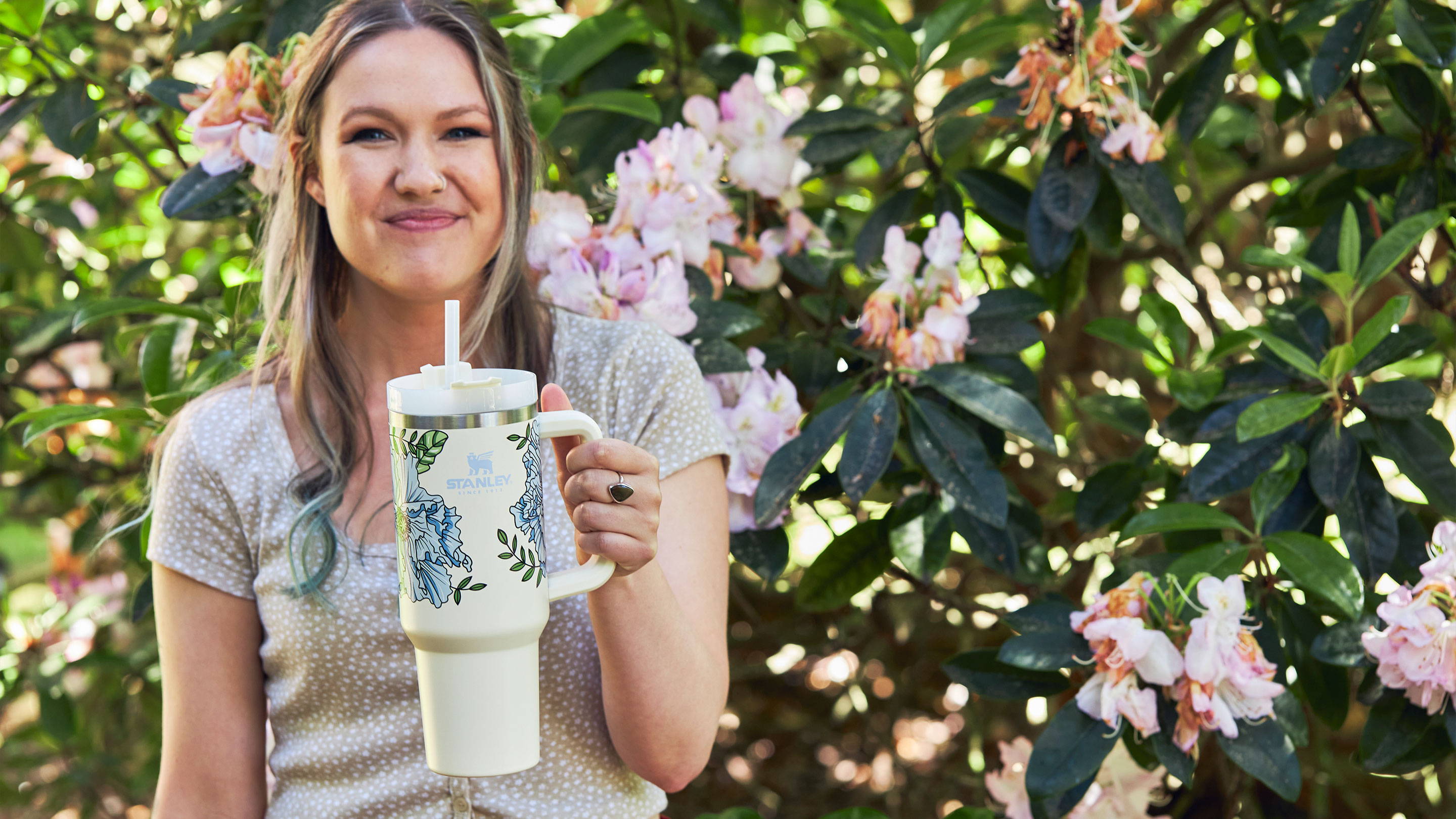 Stanley: Where do you find inspiration for your art?
Glynn: I draw inspiration from flower gardens, my community of artists, current events, and art history. One of my favorite things to do is take meandering walks, choosing my path based on where the flowers are blooming. I love finding trillium at the Washington Park Arboretum, exploring Volunteer Park's late-summer dahlia garden and enjoying the lilacs at Cal Anderson Park. We are so lucky that Seattle is full of beautiful flowers year round.
Organic forms are most inspiring to me. I love shapes found in nature, like teardrops and circles. Discovering repeating patterns on plants is like knowing a juicy secret. As for colors, I'm obsessed with teal and pink.
Stanley: What do you hope to communicate through your art?
Glynn: My work is influenced by my lived experience navigating gender identity and my interest in socio-political issues. I tend to avoid depictions of struggle in my art. Instead, I'm drawn to imagery and colors that uplift and provide hope for the future. The ephemeral nature of flowers is always present. Flowers have so many parallels to our lives, where good things often feel like they never last long enough.
Stanley: What captured your interest about lending your artwork to a Stanley Quencher and what did you enjoy most about it?
Glynn: I was excited about the opportunity to print my work on a product that people will use in their daily lives. I loved the challenge of perfecting my color scheme for this project and the special focus on linework.
Stanley: What would you like Quencher fans to take away from your creation?
Glynn: The beauty of creating floral art is that the flowers themselves will fade and droop, but the art lasts much longer, reminding us of the fleeting beauty of the bloom season. I hope this Quencher will provide the joy of summer flowers year round.
To enjoy the enduring beauty of the limited-edition Cream Floral Quencher Travel Tumbler, be sure to sign up for in-stock notification. You can learn more about Glynn's work on their website.
---