Celebrate National Hydration Day with Stanley
Stanley loves keeping everyone motivated to hydrate more every day, in beautifully colorful, innovative and fully functional style. After all, our bodies are made mostly of water—up to 70%. There is no better day to celebrate it than National Hydration Day, created in 2016 to honor football coach Victor Hawkins and remind us all of the importance of hydration. Around here, every day is Hydration Day!
LIVING YOUR BEST HYDRATED LIFE
One big key to all-day hydration: Having your favorite drink with you, at the right temperature, everywhere you go. The famous Stanley Quenchers and IceFlow tumblers are designed to go with you wherever, and do it in style that is as functional as it is beautiful. With double-wall stainless-steel insulation, they're made to keep things ice cold for all occasions—from yoga class to your afternoon meeting, the gym or weekend getaways.
Stanley is changing the hydration game, and you can see it. The famous Stanley winged bear is everywhere—from your HIIT class to car cupholders, long walks, gallery nights, airports and beyond. Always fitting in, and always bringing the latest colors, designs and finishes you love, along with the innovation that we know you need. At Stanley, hydration is more than a day or a trend, it's a lifestyle.
We're not the only ones loving the hydration lifestyle, Stanley fans around the world are helping create the scene too. These fans love their bottles, referring to their Stanley lovingly as their "emotional support bottle," bringing their Stanley everywhere they go. They're matching their Stanley to their nail polish, building their OOTD around it and more. And to complete the picture, adding charms, stickers, artwork and more to their Stanley to show off their style and individuality.
Some of our favorite influencers are big Stanley fans too, and they're showing it and sharing the love everywhere in their own incredible ways.
So, what's coming next? Stanley is leading the way again, going big on hydration (literally) with the new 64-ounce Quencher, the newest must-have hydration accessory. You many never go thirsty again! And that's just the beginning. For Stanley, innovation is everywhere, and always in the latest colors and
to-die-for finishes, making the Quencher and IceFlow your absolute go-to's.
The Quencher's three-position FlowState™ lid rotates from straw opening to drink opening to a full-cover top. The IceFlow's made to be easy-to-hold and its built-in flip-straw makes everything simple and leakproof with the straw snapped down tight. Big, easy to carry handles and a narrow base to fit just about any car's cupholder, and because they are from Stanley you know they are reusable, unbreakable and built to last. Hydration companions for life! We're always on the hunt for the next delightful pattern, the next delicious finish, the next fun surprise or collab to bring to your daily must-have.
CELEBRATE AND HYDRATE, TODAY AND EVERY DAY
Get out there and celebrate National Hydration Day by sharing your favorite Stanley that keeps you hydrated year round! Be sure to tag us on social media with your hydration celebrations. We'll be celebrating too, 10(!) 64 oz Quenchers on Instagram and hosting a TikTok Live 6/23 at 3 pm to reveal of the newest colorful additions to the Stanley hydration collection and more.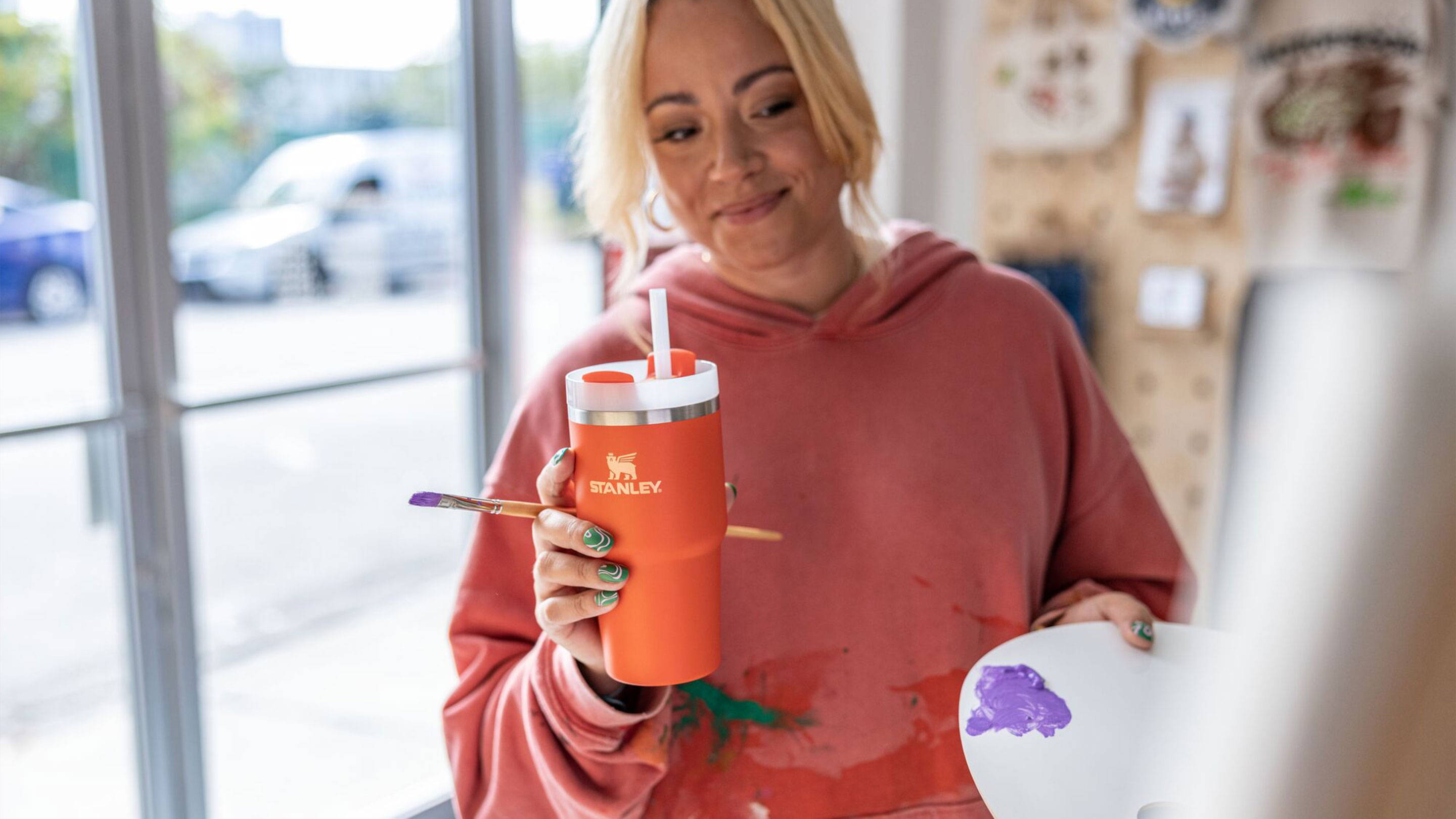 Remember, hydration is not just for National Hydration Day. There are lots of ways to mix it up and keep it top of mind. Fill it with fun—your favorite beverage or water, squeeze in some fresh juice, freeze whole pieces of fruit to toss in, add mint, cucumbers or lemongrass. Set a reminder on your phone or watch, even better, challenge yourself or your friends to drink the most in a day, and more. See how many fun ways you can come up with and share them with Stanley.
National Hydration Day is a great reminder for all of us to keep our bodies in good shape with the hydration it needs and uses constantly. Stanley is proud to make this an every-day mission all year long, with the tumblers you need to make hydration fun and fashionable. Don't forget to show us how you're celebrating on June 23rd by sharing your favorite Stanley product or memory. Always keep your Stanley filled and by your side, and keep hydrating! Explore all of our products at Stanley1913.com.
---